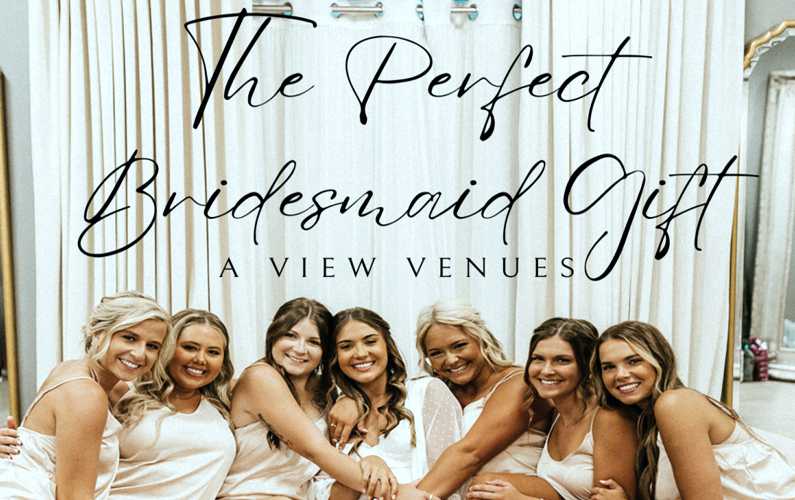 The Perfect Bridesmaid Gift
By: Riley Throener
Asking your friends to be a part of your special day deserves a moment in itself! More likely than not, you have plenty of stories and memories tied to each person – making the moment you ask them to stand by your side, that more meaningful! How can a bride show her appreciation for each bridesmaid she choses without breaking the bank? Many brides do this by putting together a small gift. In this article, I want to share some unique but also practical bridesmaids gifts!
1. Silk Pillowcase
A gift that screams luxury. Beauty sleep is so important which would make this the perfect addition to your bridesmaids gift! You could even take it to the next level by adding the names of your chosen bridesmaids onto the pillowcase.
2. Stanley Cup
If you haven't heard of them in 2022, I'm sure you will this year! The Stanley Cup makes for a great and practical gift. There are so many color variations and they actually keep your beverage chilled! This is the perfect item to hold drinks for your Bachelorette party!
3. Disposable Film Camera
On top of the memories you already have, use this camera to capture more! There's just something so special about film photos too. You could even make a 'Bachelorette Party' album full of the photos taken!
4. PJ Set and Slippers
Who doesn't love a cute PJ set? I know I do! This gift is sure to win over your bridesmaids. PJs are great for getting ready the morning of the wedding and make for super cute photos. Throw in a pair of slippers too and they're set.
5. Lip, Eye and Face Masks
Help your bridesmaids feel rejuvenated, relaxed and ready!
6. Hair & Makeup
While it's all about the bride on her wedding day, it's important your girls look and feel great too. By offering to pay for your bridesmaids hair and makeup, it'll allow everyone to feel like their best selves! Your bridesmaids will spend a good amount of money throughout the wedding, so this is the perfect way to show your appreciation for all they do.
7. Tote
A tote is great to place the gifts in, making this idea super functional.
8. Recovery Products
A wedding is a party right? I know for a fact, no one likes a hangover! Make sure your bridesmaids morning is less insufferable with this easy idea. Purchase a singular package and give each person 1-2 packets!
9. Permanent Jewelry
Looking for a gift that could be a fun group experience? This is the gift for you! Recently, A View Venue's owner Brandi Goldapp, treated her team to permanent jewelry done by Martin Jewelry (Omaha, NE). Each of us were able to customize our pieces and pick the placement making this the perfect personalized experience!
10. Handwritten Letter
Wrap up your gift with a meaningful letter. Make it personal by sharing a specific memory or how that person has positively impacted your life. You could even write your note on the back of a framed photo of you and that person!
While all of these are just ideas, do keep in mind that you know your people best! Look for a balance of the gift matching your aesthetic and being practical. You don't need to spend a lot to create something meaningful- the real gift is that they get to be a part of your special day and create more memories!