Omaha Area Premier Wedding and Specialty Event Venues.
3 Locations, Endless Possibilities.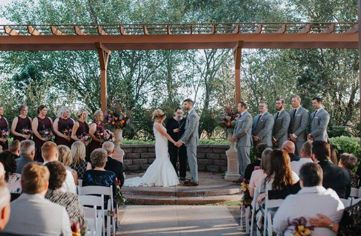 Every dream begins with A View, so let us turn your dream into reality with the ultimate wedding experience. Three Venues ~ Endless Possibilities!
Thank you for considering A View Venues to host your event
Teamwork is the foundation of our company culture. We encourage our team to help our customers by first helping each other.
The "It's not my job" mentality does not exist at A View Venues. Our employees share a collective entrepreneurial attitude that keeps A View Venues a leader in the event industry.
Our staff is dedicated to making your event exceed your expectations! As owners, we personally guarantee that your wedding or special event will be handled with absolute care and commitment.
Sincerely, 
Steve and Brandi Goldapp, Owners
All of the women I worked with, from my initial visit to my wedding day, were amazing at A View on State. The venue we originally booked closed about 2 months after booking them, and we had about 2 months find a new place. Additionally we had already chosen a caterer. They were so helpful and accommodating- not only at the venue, but the caterers they work with as well. When we viewed and booked A View in State, while the closing of our other venue (and loss of money) was a pretty big set back, we knew we found a great place & better place with A View in State. We didn't have much time until the wedding, and they made sure it was perfect. Thank youuuu!

Grace Marasco


5/08/2020

We love A View on State and have been holding our annual event there for five years! They are professional and fun to work with!

Regina Meradith


4/30/2020

Stopped in to check with staff about an upcoming event we have been emailing about and to see the place itself. VERY NICE accommodations and this will be THE BEST place to have my party next year. Brittney was more than helpful and was eager to show us all the amenities available and how she could customize her services to my needs. Catering available, full bar, stage, outdoor patio area, lots of paved parking and if you want to bring in food, cakes, flowers or whatever decorations or fun things, not a problem. My event will be EPIC.

Barry Horner


1/11/2020

I loved working with A View On State. I had concerns with a couple guests and they made sure they had the right people there to avoid any issues. They made the day go so smoothly, I didn't have to stress at ALL! Even when I spilled my blackberry whiskey lemonade all over my wedding dress, they were there and helped me get the stain out right after it happened. The staff was always super patient and understanding and was so excited whenever anyone had an idea! The venue is stunning and I simply cannot suggest them more.

Rachael Loke


11/25/2019

It worked out great it's an all in one place everyone should at least consider it for a wedding or family get together

Benjamin Christensen


10/22/2019

Beautiful venue, lots of parking and nice location!

Katie Henningsen


10/02/2019

Great venue. Seemed to be 3 reception halls, all very spacious and set up magnificently. Outdoor patio along the entire rear of building, and large outdoor reception area for dances or weddings. Staff was very welcoming and helpful to all.

Daniel Hedrick


7/22/2019

Friend had his wedding here it was a amazing wedding

Dayton Fox


6/18/2019

My Cousins original wedding venue was not usable due to the recent flooding. A View on State took over with a week notice and helped the family out tremendously. Beautiful venue, staff was attentive. Only complaint was the noise, noise seemed to bounce around off the walls very easily making it way too loud. Might want to put some sound dampening panels up.

krystal stewart


3/27/2019

Nice venue. We attended a fundraiser event here and I thought everything was very well done.

Chad Anderson


1/20/2019

Great rental space with good service. Really a blank slate for your on design. Did was good and even had options for gluten free and vegan.

Rodney Rahl


1/10/2019

Great venue for large crowds.our event had 700 people in attendance and it was not over crowded. Wish there would H E been more bar service but what was there was good.

Rosie Logemann


12/12/2018

A View was amazing to work with and exceeded every expectation. My wedding was beautiful and I received so many compliments. I didn't have to worry about anything that day because they handle it all. I can not recommend A View enough!

Alexandra Bierman


12/05/2018

Nice place. Great staff.

James Kaup


11/15/2018

Brittany was the best person ever. Made our wedding flow so awesome

Austin Wettengel


9/25/2018

Beautiful location for a wedding we attended. Thank goodness it is shaded because it was sure warm! They need to add some outside ceiling fans.

Caryn Kramer


6/12/2018

I got the privilege of hearing Inky Johnson speak this week and the venue was excellent. The space was great, the decor was nice, the sound from the overhead speakers was great quality. The location is pretty north, but you aren't visiting the venue daily, so that didnt bother me

Johnathan Silva


5/17/2018

I will never be able to thank the helpful staff at A View on State for making my wedding an absolute dream come true! During the planning process I had a very specific vision in mind and Britney and her team made everything I wanted possible. I love how customizable everything is, and if I ever wanted to change my mind about something I could shoot them a text and they would take care of it for me. The day of the wedding I was amazed with how my vision came true, they made sure everything ran smooth and I didn't have to worry about a thing. I would highly recommend A View Venues to anyone looking to have their dream wedding!!

Sara Johannsen


4/28/2018

Food was great. I've been to may of these places and the food is usually so so but this place was great. Nice place and great staff. Only downside was that you had to go back outside to go from one room to the other. Not good when it is raining or snowing and your makeup and hair is done.

Karen White


4/15/2018

Roofing this building with midwest erectors LLC great placegood people

Jacob Price


3/30/2018

The staff at A View on State were wonderful to work with! Ashley, the lead manager that evening, was not only attentive to the needs of the bride and groom, she made a point to check with me to ensure we were on the same page to help make the day special for all!

James Cloyd


10/04/2017

I loved my venue! The place was beautiful and the staff was amazing! My guests had a great time and couldn't believe how smoothly everything went. I would recommend them to anyone for any occasion! (We even had one of my husbands military balls there and they did such a wonderful job with that as well.)

Devin Waldron


1/18/2017

Caitlin was so great to work with! She put up with all of our questions and went out of her way to make our day a huge success! I would recommend A View on State, Caitlin, and Mie to anyone! Words cannot do them justice! They were all fantastic to work with!

Jordan Stocking


5/31/2016
Three Locations
Endless Possibilities!