A View on State
Reviewed On 4/27/2017

This is the place to go if you're getting married. The staff was very professional, the food was great and the Ceremony was incredible. I'm not sure who the photographer was for my Son's April 22nd wedding was but she did a really incredible job getting the right photos at the right time.
My Son's wife really loved how professional she was for the entire ceremony. Nice job to everyone and a AWESOME place to have your wedding.
Randall V
A View on State
Reviewed On 10/04/2016

I work for DaVita Healthcare Partners. We held our divisional meeting at A View on State. We worked with Britney throughout the entire planning process and she was on site for the days of the event.
Every crazy request we threw her way, she would smile and just say OK. Like magic, she made everything happen. Our goal going into this meeting was to create the model to which other divisions would look when planning their retreats. We could not have pulled this all together without Britney and her team.
The invoicing was clear, the décor was beautiful, and she exceeded every expectation we had. I couldn't be more thankful for her work, attention to detail, and hospitality. Not only was she extremely professional, she was really fun to work with! Britney has a wonderfully contagious personality! Love her! We have already been spreading the word to our Omaha region!
Bri Tracy
A View on State
Reviewed On 7/22/2016

Our May wedding reception was in the Redwood Room at A View on State. The space is great—you hardly need any decorations because it's just NICE. We enjoyed working with Caitlin and the other staffers—all very responsive, professional, experienced, and gave great recommendations for other vendors. Caitlin was accommodating and so kind in answering lots of questions leading up to the wedding day. The reception was perfect—thanks A View!
Megan
A View staff is the best!
Reviewed On 9/14/2015

Not only was our staff on top of everything but the venue itself was gorgeous, unique, and perfect for our wedding. They took care of linens, napkins, tables, chairs, China, etc so all we had to worry about was our decorations. Our planning was so easy with them – they're so funto work with – so it made our big day even better. Literally nothing went wrong on our day because the staff was so on top of everything. They're the best!
Rachel J
A View on State
Reviewed On 6/05/2015

My wife and I decided on State Street location for A View while it was still under construction. Our event planner Britney McRoberts promised that it would be an amazing evening, and she came through in every way. From the amazing ceremony pavilion out back, to the setup and incorporation of the multi colors we had in our wedding, every aspect of our day was perfect. We've received so many compliments on how everything went!! I would highly recommend this place and Britney to anyone who is looking to celebrate their day in style.
Chris H
A View on State
Reviewed On 8/20/2016

Our wedding could not have gone more perfectly, and that was in large part thanks to A View on State. Caitlin and all the girls there were so helpful from the very beginning of the planning process through the whole night of the wedding, answering my insane amount of questions, sending samples of the fabric choices for the table decor (they provide the chair and table linens), and being available on the day of to help/answer questions. The ceremony and reception spaces are BEAUTIFUL and we loved the bridal party room to get ready in. Being an out-of-town bride can be stressful and scary, but they made me feel so relaxed, because I knew they were there to help the whole way! So glad I have these perfect memories to look back on!
Lora R
Good Staff='s Happy Bride
Reviewed On 10/28/2015

Brittney was very helpful to work with and answered all of my questions in a timely manner. It was wonderful that we got to set up the venue one day prior to the wedding. The wedding went very smoothly and I would recommend this place to all of my friends.
Larisa W
A View on State
Reviewed On 7/22/2015

I loved this place! Britney rocked it! She made sure that we all had a great time and that everything was perfect. It was so hard looking for a place last year since our wedding was in June and June is such a busy time for weddings! (Obviously) but Britney reached out to us and showed us the model for the building on State street, and we chose it. I was so nervous picking it since it wasn't built but I am so glad we picked it when we did. We had our ceremony and reception there. The reception was in the Palms room and we had over 200 guests along with a band, photo booth, and a head table of 22 people. There was so much room to move around. I still keep getting compliments on how beautiful everything was. It was perfect! I would highly recommend this place to anyone!
Kierstin W
Excellent Reception Venue!
Reviewed On 8/30/2015

We used A View West for our wedding reception this summer. The ladies who work there are so friendly and accommodating, and they were very easy to work with leading up to our event. They provide china, linens, flatware, table runners, chair sashes, and uplighting. We loved the way our decor turned out, and many of our guests commented on the elegance of the room. During the actual event, Mikayla, our event producer was always around to help with any issues that arose. She was so friendly and on top of any request that we had. In addition, we found an open bar to be relatively affordable at this venue. Overall, we had a wonderful experience, and we had an unforgettable reception. We recommend this venue to others who want an intimate space with natural lighting that can be transformed based on your own vision for your wedding.
Kavitha D
A View West
Reviewed On 3/16/2016

A View was amazing! They are so easy to work with, and so willing to help with whatever you need! Our 6 month meeting went so smoothly because they knew exactly what they were doing! Very helpful and extremely friendly!
Fabulous Place and Service
Reviewed On 11/09/2015

A View was wonderful. Everyone keeps talking about the views. It's a wonderful place if you want awesome views from inside as well as the deck. Also, the staff that helped that night was wonderful. Very helpful, kept things going. I had a wonderful experience throughout.
Amy A
A View in Fontenelle Hills
Reviewed On 6/11/2015

We LOVED having our wedding here! We first met Christmas of 2013 to check out the venue and we fell in love with the place! We came back later to sign the contract! I loved that everything is included in the rental and no hidden costs. We had Caitlin at first then we had Brittany. Both of which was very professional and helpful along the very long road of planning. When the day came it was beautiful there! Everything from the table runners and settings to the outdoor greenary made for amazing pictures! I would definitely recommend this venue for ones with smaller amount of people invited. We didn't end up using the upstairs portion of the venue which cut our bill down and they gave us the up-to-date costs (which lowered over the year 1/2 since we booked)! It was just an overall great experience!
Sadie S
A View West Reception
Reviewed On 8/14/2015


I had such a great experience at A View West. We chose them as the spot that we would be having our wedding reception. Throughout the process they always answered any questions that I had. The day of the wedding, Mia was such amazing help. She was everywhere making sure that my husband and I were happy. She worked so hard that day! The venue was so gorgeous and we received lots of great feedback from family and friends.
Justine C
A View On State
Reviewed On 7/23/2015

My husband and I were recently married at A View On State. We signed our contract while the venue was still under construction and were very pleased with the result! The venue itself (we used the Redwood Room and the pavilion in the back) is gorgeous! The floors are a beautiful finished concrete. There is downlighting already installed. They have locked rooms for both the bride and groom to get ready in. The patios are furnished with beautiful wicker furniture and the patios and pavilion are surrounded with beautiful, flowering plants. The services provided by A View were perfect for us! They had lots of colors and styles of fabrics available for our tablecloths, runners, chair ties, and napkins. We loved that they included tables, chairs, linens, and china. We felt safe knowing here was security on-site. Britney was our wedding coordinator and she was amazing! She and her assistants set everything up (all we had to do was bring centerpieces). She kept our drinks full the entire night and checked in frequently to make sure the night was going as planned. I honestly don't know what we would've done without her! She made our event so wonderful and stress-free. I highly recommend A View On State!
Whitley J
Write Your Own Testimonial
We would love to hear about your special day at A View and your experience with our venues and staff. Please use the short form below to leave us a testimonial.
Thank You!
The A View Team
Copyright © 2017 A View Venues
All right reserved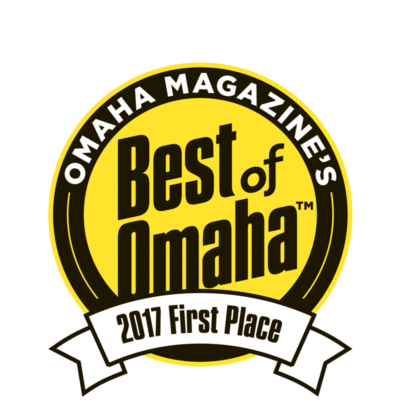 Omaha's Premier Event Venues